Cordero Lodge
British Columbia
Visitors have called Cordero Lodge everything from "Home away from Home" to "Paradise on Earth". Nestled in a quiet bay, surrounded by stunning wilderness and mixed with the comfort of warm hospitality, Cordero Lodge is a distination for those who crave the outdoors experience. Picture yourself spending a day from dawn to dusk with great fishing, hiking, exploring abandoned goldmines, beachcombing or just relaxing at the lodge.
Fishing to suit You: The location of the lodge allows you to make a choice to either "fish with the crowds" (40 min. boat-ride) or discover your very own fishing hole, right from our doorstep. Either way, a day can be spent with excellent salmon or bottom fishing, combined if you like, with crabbing, prawning or clam digging. You may also plan a day-trip to a nearby river or hike to hidden lakes, to fish for cut throat trout.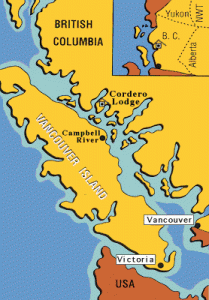 Getaway in the Wilderness: Adventure must be defined by each individual. To some it is exploring old goldmines or beachcoming. A day in the sun will qualify, while others prefer the challenge of catching that once in a lifetime trophy fish.
Discover all there is to enjoy. Find the elements of surprise by watching a bear roam through berry bushes, witness a pod of killer whales roll tranquilly through the rapids. Have your spirits lifted by the sight of a magnificent bald eagle as he swoops for a rock fish.
After cruising, sight-seeing or fishing it's time to find a quiet beach to relax and maybe cook part of your catch for lunch.
Want more? How about a hop on a charter plane or a helicopter. Be exhilarated by the incredible beauty of snowcapped mountains or large ice-fields. Discover the breath-taking sight of mountain-goats, as the jump effortlessly from one bluff to another, or watch a grizzly bear fishing for a feast of salmon in the river. Spot mountain lakes which will tempt you to try your luck to catch a rainbow trout.
It's all there for you.
But why do it all today?
There's lots to do tomorrow!
We care about your Comfort: After a day of sight-seeing or exciting fishing we top your day with a slice of warmth and a memorable dining experience. We will spoil you with either authentic German meals, combinations of seafood delicacies, such as fresh or smoked salmon, red snapper or cod, fresh oysters, crab and prawns or we treat you to an old-fashioned barbecue under the gazebo.
While enjoying your dessert or one of the special coffees meet and visit with any of the daily new faces, arriving on their boats from various places in the world or just relax and watch the sunset.
With 15 years experience in this location (this is our home), we promise you the opportunity of building valued lifelong memories for you to share with family and friends collected by excellent fishing, outstanding food and unforgettable wilderness.
Don't forget to bring your camera!